Primer Nephew went 3 for 3 with 3 doubles and 4 r.b.i. en route to a 24 to 20 Red Team Opening Day victory over Blue Team (BT). Despite the score in this 4-inning little league game for 7 and 8 year olds, there were some sparkling defensive plays.



Nephew recorded three put outs: one at 1st base, one at catcher and the last at shortstop.





The put out at shortstop initiated Red Team's (RT) first double play. With bases loaded and one out, BT Slugger skied to Nephew (19). BT Runner tagged and broke for home. Nephew fired home to RT Catcher trapping Runner in a rundown. RT Catcher chased Runner back towards third and flipped the ball to RT 3bGrrl. 3bGrrl grabbed the throw and tagged out Runner.





Red Team showed great poise, cheering on their teammates and staying focused on the game.





Player of the Game honors were shared between Nephew and RT Heads Up. Red Team's next game is Saturday against Yellow Team Pizzeria.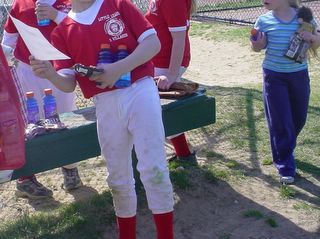 7 year old, Primer Niece, appeared at the Opening Day Ceremonies, but was unavailable for post-game comments due to prior commitments.